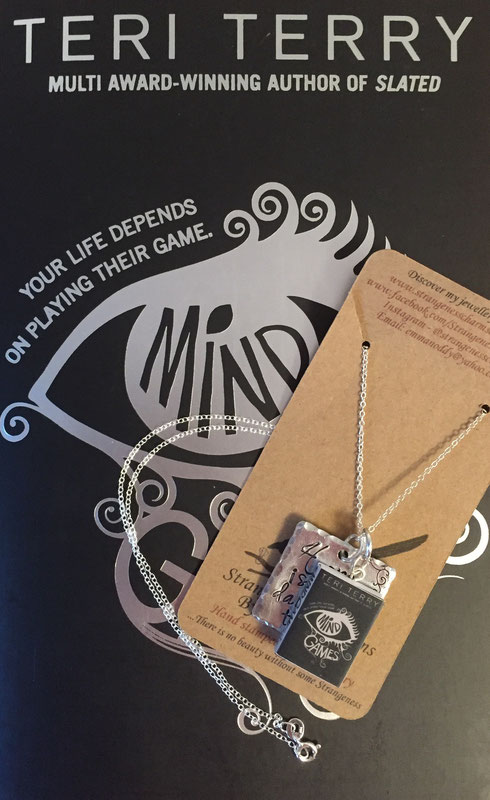 It's summer.....not that it is always that easy to tell in the UK. And it is time for a Random Summer Competition!!
The prize: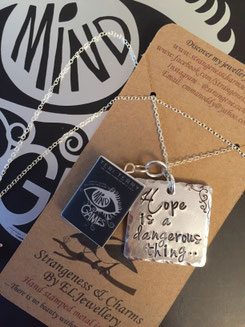 A signed copy of Mind Games, and a unique necklace, as shown! 
This is a bit more of a close up, where you can see there is a mini book of Mind Games, and a hand stamped message - a warning from me, the author, to the main character Luna. Not that she'll listen.
I had it made specially - there are only two like this, and the other one is mine.
How you enter:
Get caught reading one of my books in an exotic summer holiday locale - if you go on exotic summer holidays. If, like me, your summer will be more spend in the back garden instead of scaling Everest or swimming in the Caribbean, use some imagination: have your photo taken in an unusual interesting place in your own neighbourhood.
To enter, leave a comment below on this blog on my website (teriterry.com), Facebook, Twitter or Instagram and tell me where I can see your photo:
Instagram: follow me (teriterrywrites) and tag me to the photo
Twitter: follow me (@TeriTerryWrites) and hashtag it as 

#

TeriTerryRandomSummerCompetition

Facebook: go to my author page and post your photo onto the Random Summer Competition post, which is pinned to the top
if you have a blog or website you can post it there and put the link in the comments
Details:
anyone can enter - from anywhere in the world
this is open until 31st August at midnight UK time
I get to pick the winner at my sole discretion
by entering you are giving permission for me to post your photo on my Facebook page, website, twitter or instagram
the winner's name will be posted on my blog, Facebook page, Twitter and Instagram, and has a week to message me with their details before another winner will be chosen.
the photo can feature yourself, your best friend (with permission of course), or a hedgehog - I really don't mind - but the book must be identifiable in the photo
it can be any of my books: Slated, Fractured, Shattered, Mind Games, Dangerous Games or Book of Lies
you can enter more than once (or twice, or three times...) if you want to
Why?
Why not?
But what I mean more was this: why am I having a Mind Games based giveaway now, when Book of Lies just came out a few months ago?
Two reasons:
I meant to have a Mind Games giveaway with this necklace when Mind Games came out last year, but...well...I temporarily forgot where I put the necklace. I was tidying up and I found it!
I'm really excited about a few awards Mind Games is short listed for; who knows, it might even win something!
Good Luck!!!