Events are like buses: none in a while, then a crowd come at once:
1. Brentwood Ursuline High School
I started on 8th July visiting Brentwood Ursuline High School in Essex: first with book group students in the library, then a talk to all of year 9, a short talk to a year 7 class, and then answering questions from a year 12 student and some of the year 7 students. I had a really fun day, made special by three year 11 students who were big Slated fans coming in specially to meet me. Here's a photo of us in the library: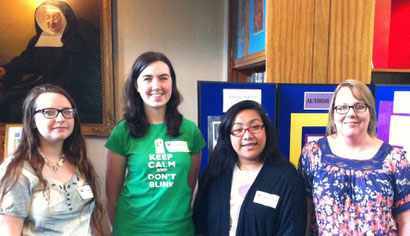 2. Beaconsfield High School, and....a hat judging!
The next day, I was off to Beaconsfield High School. Year 7 students all took part in a competition to design a hat for formyhead.com, and raised funds for Teenage Cancer Trust. 
I was the guest hat judge! There were SO many that were gorgeous, it was a very difficult choice.
Then I spoke to the year 7 students, answered some questions & signed some books.
Here is me and the winning hat & hat designer: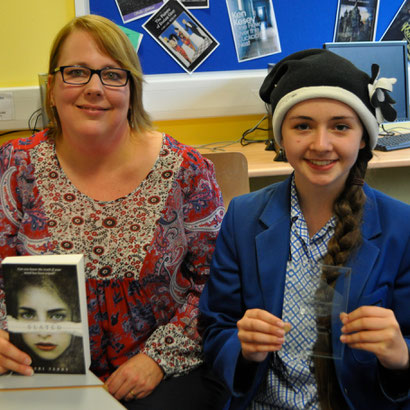 3. The Amazing Book Awards, Sussex Coast Schools!
And for my next adventure? I hosted the ABA book awards! Slated won the ABA gold award last year, and I had so much fun that I volunteered to host it this year.
They had golden tickets: gotta like a golden ticket.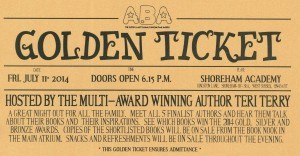 It was an amazing shortlist of amazing books and amazing authors:
After Tomorrow – Gillian Cross
At Yellow Lake – Jane McLoughlin
Hollow Pike –James Dawson
The Drowning – Rachel Ward
The Killables – Gemma Malley
And the 2014 ABA gold award was won by...
James Dawson, Hollow Pike!
Silver was Gillian Cross, and bronze, The Killables.
Check out the 'caught reading' photos on the ABA website - I particularly like the fire fighters...
4. YALC
Next up on Saturday I headed for London, and the first ever Young Adult Literary Convention in the UK. It was part of the massive and awesome Comic Con.
Unfortunately as I was travelling back from Brighton, to home, then to London on the same day - I didn't make it to the YALC until it was done for the day. But WOW did I see some awesome characters coming out of the convention! And then I went to not one but TWO parties - both fringe & official.
I didn't take a camera but have to link Sarah McIntyre's awesome blog: take a look at her photos!! 

5. Hampton Court Flower Show
OK, this has nothing to do with books. I get that. But I had a great day. Apart from the sunburn.
6. Weston Favell Academy!
And finally? On 14th July I went to Weston Favell Academy, Northampton.
I spoke to year 9 (and some of year 10), then had a lovely enthusiastic group of students from a bunch of different year groups in the library.
It was a real high to end the year on.
OK, I know it is July - I mean the school year. No more school events until next year!
7. And next....?
The summer is usually pretty quiet, event-wise. I plan to spend most of it writing my very creepy new thriller - I LOVE writing in the summer in the garden.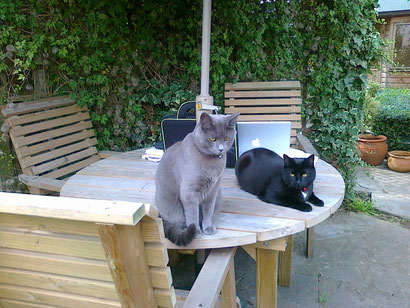 Though if you're in London for Loncon3 - the World Science Fiction Convention - I'll be on a dystopian fiction panel on 17th August.