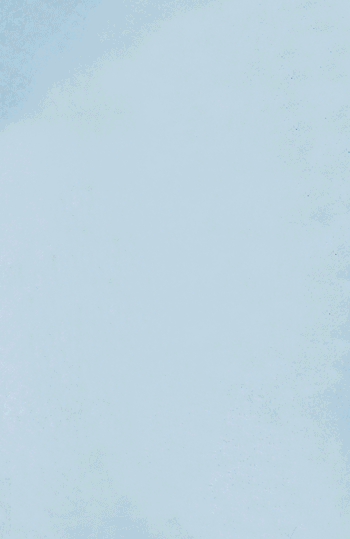 Shattered was out in the UK on 6th March: hurrah!
Last week I was on tour to schools to celebrate both the Shattered book birthday, and World Book Day: they were on the same day!
I had such a good week. The schools I visited are listed below.
3 March: Ridgeway School, Swindon
              Henbury School, Bristol
4 March: Stourport High School, Stourport
              Woodrush School, Wythall
5 March: Clitheroe Royal Grammar School
               Lancaster Girls Grammar School
6 March: Morpeth School, London
              Sir John Cass School, London
7 March: Thomas Deacon Academy, Peterborough
              St Mary's School, Cambridge
The week started a little, well....worrying. I had the WORST cold in the history of colds the week before. Seriously - it was worse than Man Flu.
I got off the train in the dark in Swindon the night before, and stepped, coughing, into torrential rain. I will confess I was feeling a little sorry for myself.
But once I arrived at the first event, things were good. It even stopped raining! Both the weather and my cold improved as the week went on.
First: this was at the Ridgeway School, in Swindon: awesome display!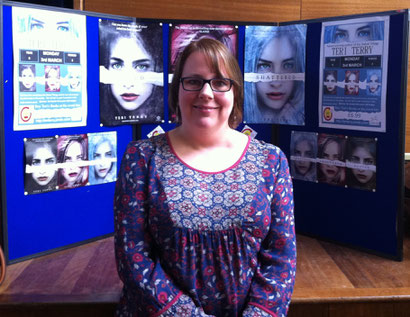 Seriously....! can you believe the taxi that was booked to take me to Henbury School?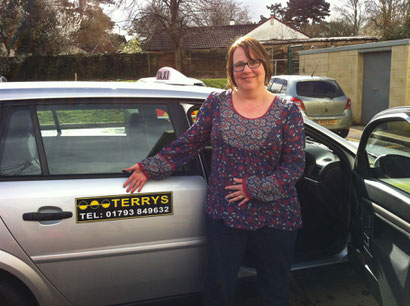 I loved this poster they made at Stourport School!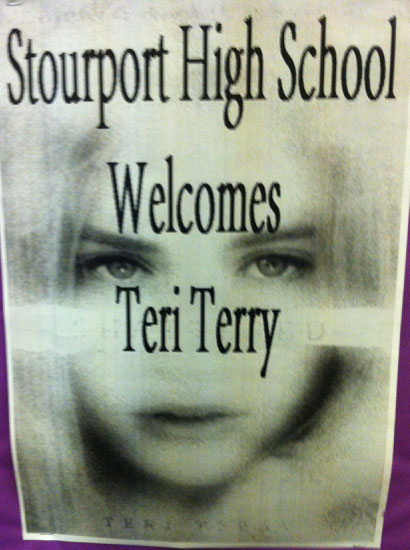 The above poster was part of an awesome display!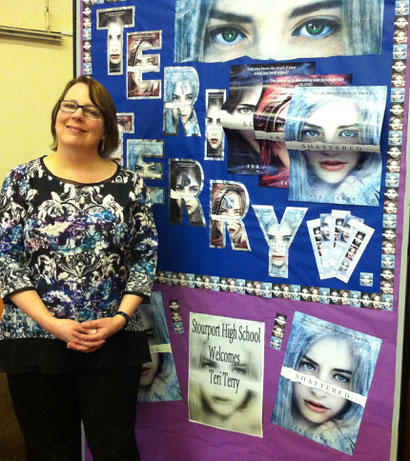 I kind of lost the plot as far as taking photos went from then on...sorry about that.
But here are a few memorable moments: 
answering questions. This is always my favourite part of events, and in every single school there were excellent, sometimes funny, interesting and original questions.
missing my train in Lancaster. This was the most awesome train missing - signing books at LGGS went over time! And the very nice train people let us get a later train on the same ticket - bonus.
power failure in Peterborough! The whole school was in the dark, but the show went on - in the atrium at the entrance of the school. Everyone was great about sitting on the floor  and listening despite distractions.
wandering about the Cambridge botanic gardens in the sunshine with fellow writer (and teacher at St Mary's), Louisa Reid
the Magical Moving Table of St Mary's. Is the school haunted?
and yummy yummy, below! Chocolates from Morpeth School in London! The box is looking a little less full now...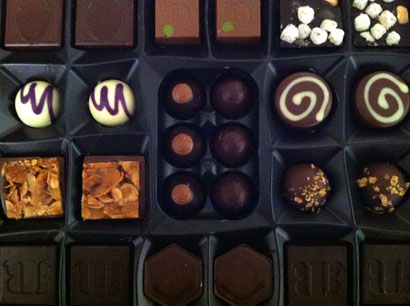 Something I loved:
This year, and also in many talks last year, I often read a section from Fractured that leads into a discussion of freedom fighters versus terrorists.
The question I ask is this: if a group is fighting for freedom against an oppressive governement that is doing terrible things to its citizens, are any means justified? If they are using bombs to achieve their aims, are they terrorists, or are they freedom fighters? It's kind of a rhetorical question - something to think about, rather than something I'm expecting an answer to.
At one of the schools, for the first time, as soon as I said the words, a number of students spontaneously called out an answer at  the same time: terrorists. And the same thing happened again that afternoon. That's never happened before when I'm giving this talk. And the two schools where this happened were the two London schools - Morpeth and Sir John Cass. They were listening, they were engaged, and they had an opinion. I had to restrain the impulse to run into the audience for spontaneous high fives...
Overall?
The schools I visited were an interesting mix. At some of them many of the students were really into Slated and excited I was coming; at some of them, they weren't really sure. But this is part of the fun of tours. As great as it is to meet fans, it can be really touching to reach students who aren't so sure about reading.
Thanks so much to my publisher Orchard Books, Victoria, Rosie, Corinne, Lizz, Caitlin, Authors Aloud, and all the librarians, teachers and booksellers involved in making the week happen.