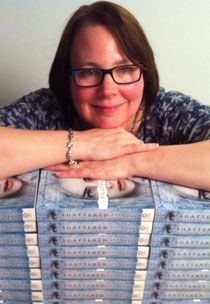 This giveaway is now closed; the winner's name has been posted here.
Shattered is in the UK!!! 
Here I'm posing with just a few copies...
Well, it's not official until 6th March. But I hear it's been sneaking out here and there.
To celebrate this moment?
A GIVEAWAY!!!
Here's the deal.
The Prize: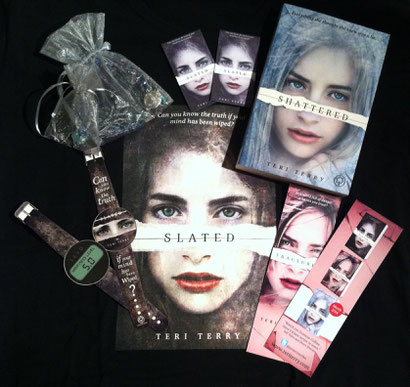 a personalized signed copy of Shattered
a black Slated T-shirt
Slated and Fractured bookmarks and Slated business cards
beautiful necklace and earrings that match the Shattered cover (more on that below!)
AND an invitation to the Shattered book launch party in London on the evening of 20th March for you and a friend!!
How do I enter?
Leave a comment on this blog, below!
Can I get more entries?
YES! You can gain extra entries by:
liking my Facebook page (TeriTerryAuthor)
sharing this giveaway on facebook
following me on Twitter (@TeriTerryWrites),
tweeting the giveaway, as below
you have to tell me in your comment that you've done these things so I know about it!
you can share on facebook and tweet DAILY for extra entries - just remember to leave a comment below to tell me you've done so
The tweet: copy and tweet this -
Enter the #Shattered giveaway with @TeriTerryWrites - win signed book, swag, jewelry AND a launch invite! http://teriterry.jimdo.com/2014/02/20/shattered-giveaway-book-swag-launch-invite-more/
How is the winner chosen?
The winner will be chosen from the total number of entries using a random number generator
More on the necklace and earrings:
They were made by Luna at lunaslittlelibrary to match the Shattered book cover: aren't they pretty?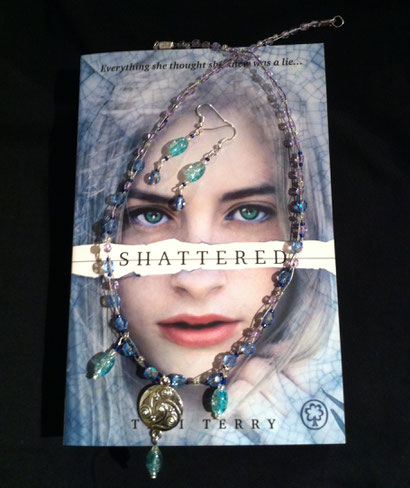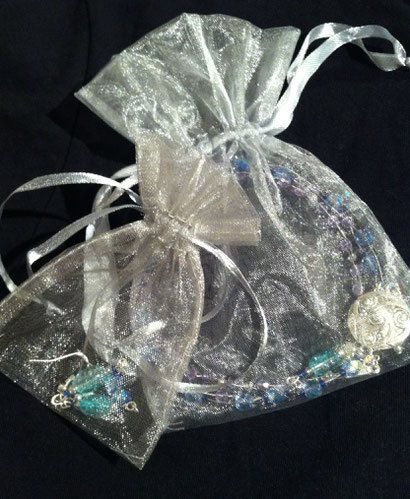 The fine print:
open internationally
one grand prize
Tshirt is one size only, as shown (labelled ladies XXL, though on the small side of that)
you have to make your own way to the launch party on 20th March in London; if you are unable to attend, I'll send you a personalized card & a photo of the night instead
closes 9th March, 2014 at midnight (UK time)
additionally - in your comment tell me if you want the chance to come to my book launch; if the grand prize winner is unable to attend, I'll pick another winner for the launch party only at random from the comments
the winner will be posted on this website, my facebook page and on Twitter on 10th March; you have until 14th March to contact me on the contact form of this website here to claim your prize; if not another winner will be chosen. Please also tell me in your message if you are able to attend an event in London so I know whether to choose another winner for that part of the prize.
any questions? ask in the comments below.
This giveaway is now closed; the winner's name will be posted soon.