I had a marvelous time last Wednesday at the Rotherham Book Awards. Slated was on the shortlist in the teen read category.
It was held at the Rotherham NY stadium! We didn't quite fill the stadium but were in a large function room overlooking it, instead. This is what was out the window: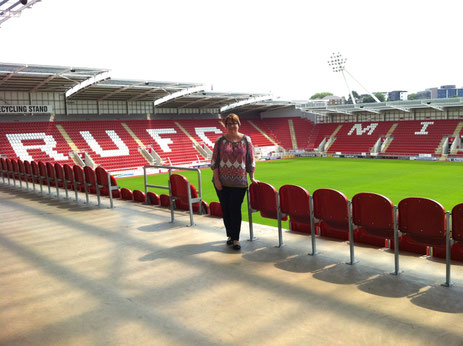 I was there in the morning, which featured the teen reads and upper categories. The teen reads (yr 10 -11) shortlist was:
Dodger, by Terry Pratchett
Secrets of the Henna Girl, by Sufiya Ahmed
Freaks, by by Kieran Larwood
Slated
And the upper (yr 7 - 9) shortlist: 
Gods and Warriors, by Michelle Paver
Pegasus and the Origins of Olympus, by Kate O'Hearn
Metawars, by Jeff Norton
The Boy Who Swam With Piranhas, by David Almond
The authors who came along:
The morning began with a marketplace, with booksellers including Diane and Gemma from Gemma Books (they have loads of signed copies of Slated and Fractured I did for them at the end, too), us authors talking to students and signing books/notebooks/bits of paper/pretty much anything and everything. And there were displays of amazing alternative covers and creative work to admire.
And then everyone had a seat, and we heard some more about the book awards, and students prizes for writing, poetry and covers.
Then the authors each said a few words...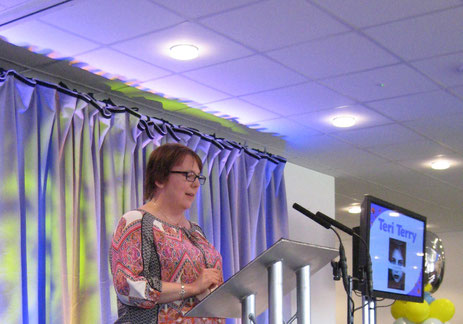 I usually get really nervous before I speak in front of loads of people - not this time! I think it was because the way the morning was structured. As I looked across the audience, everywhere I saw smiling, friendly and enthusiastic students I'd been chatting with earlier. It felt like talking to a big bunch of friends, like the ones below: lovely!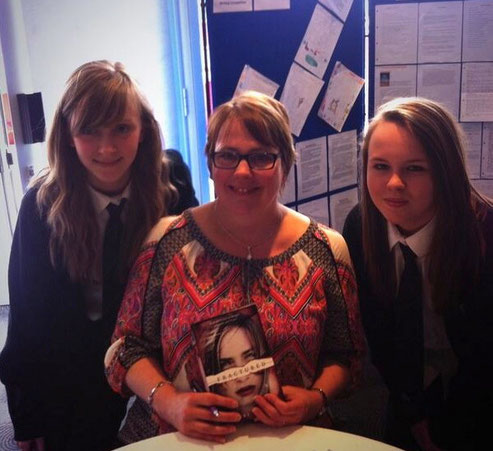 And then, came the moment: who won?
Jeff Norton won in the upper category for Metawars. And Slated did for Teen Reads: hurrah!
One of these to take home: