Sorry I haven't been blogging much lately - I've been busy working on book 3 of the Slated trilogy, in-between many other distractions & happy occasions. Here is an update on some of it:
1. Leeds Book Award
I was thrilled to hear some months ago that Slated was shortlisted for the Leeds Book Award, 14 - 16 category!
This is the shortlist: 
Phil Earle, Saving Daisy
Sarah Hammond, The Night Sky in my Head
Sam Hawksmoor, The Repossession
Edward Hogan, Daylight Saving
David Massey, Torn
Teri Terry, Slated
I was very excited when Slated won the Leeds Book Award in the 14 - 16 category in Leeds on 23rd May!
It was held at the Leeds Civic Hall. The event was MC'd by writer Dave Cryer. There were 10 short listed authors present (5 from each the 11 - 14 and 14 - 16 categories).
Each author spoke for a few minutes about themselves or their books, then answered questions from a packed audience of readers from schools across Leeds. Then a golden envelope was opened by a volunteer student to announce each winner (the 11-14 was won by Mark Lowery, author of 'Socks are not Enough').
This is me taken a short time after, looking dazed and holding the glass trophy: thanks very much to Nicky Busby, @Yorkshireimages, for the photo.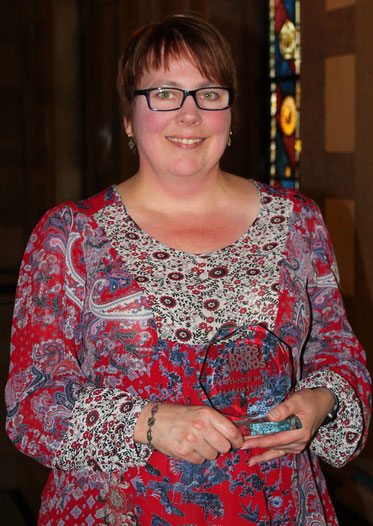 2. Hay Literary Festival!
I've also been preparing for this! On 31st May I'm appearing at Hay, along with writers and fellow-Demention-bloggers Claire Merle and Julie Bertagna. Details and tickets available here.
3. Book 3 Title Reveal!
Oh, this has been VERY distracting! I've finally got a title all picked out for book 3 of the Slated trilogy - and it will be released on Thursday, 30th May! So check back here from 8 a.m. that day.
That same day there will also be bloggers taking part with the title reveal, interviews, giveaways & more!
The blogs participating are:
4. Aylesbury Waterstones book signing
I was there on Saturday 25th May - it was brilliant talking to readers and meeting up with friends, old and new. 
5. But wait... there's more!
June is going to be busy! Here are a few highlights. More details are on my events page.
Angus in Scotland for the Angus Book awards, 4- 6 June. 
speaking about writing for YA at Wendover Library in Bucks on 13 June.
Preston, 21 - 22 June for the Lancashire book of the year events.
That's it for now, but I'll be back on 30th May with the title reveal. Byeeeee!!