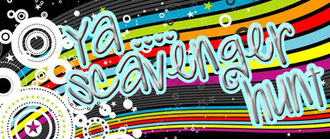 The YA Hunt is over - sob!! It's been so much fun to be involved in it for the first time.
The overall winners of the Red and Blue Teams and all the signed books from every author will be posted on the YASH website as soon as they can.
And the winner of my Fractured Secret Page competition - chosen using a random number generator of all entries - is Myra White! Congratulations!
But that's not all. Those of you who found the password 'NIGHTMARE' on the hunt to check out my secret page have been brilliant with your comments and suggestions for naming a character in my second book, Fractured.
I can't tell you yet what his name is going to be: I have to think about it. I may even keep it a secret until the proofs come out. But some very special mentions go to some of my favourite suggestions:
Jag: suggested by Kate. I seriously love this name, but there is already a character in the book named Jazz. Too similar, maybe?
Katran: suggested by Cynthia. Wow. This is such a cool name. There is something about it I like - and yet I also wasn't sure initially if it fits the character I know so well in my head, and on the page. But the more I turn it over, the more I like it. Though there is another K name (Kyla, my main character) the names are different enough; I can't see anyone would confuse them?
Bowie: suggested by Melora. Another name I really liked on first impression, but the more I try to think of my character as Bowie... not convinced it is him, somehow.
As stated, if I go with your suggestion, as soon as I've got my hands on them you will get a proof of Fractured.
THANKS so much for taking part, it's been fun!